WHY YOU SHOULD USE CONTAINER ORCHESTRATION ON CLOUD WITH KUBERNETES
Not implementing container orchestration? Here's why you need to start doing it today.
Why container orchestration?
With containers, any DevOps team can package and isolate applications with all their files needed to run in each environment. Containers thus supply more flexible choices when adopting public cloud services, due to application packaging and isolation. This way teams can move the application between clouds without changing any functionality or line of code.
Running microservices in containers is the fundamental building block of cloud-native IT solutions, but the management and orchestration of these components is the key to success in the cloud age. Container orchestration enables a standard-based multi-cloud model, which means that choosing a cloud service provider (as AWS, Azure and GCP) is solely a business strategy decision rather than a technical one.
Why multi-cloud portability?
Having a multi-cloud strategy is much more than having subscriptions in multiple public clouds or using private and public clouds. The focus now must be on the portability of applications between the various clouds.
If DevOps teams ensure that their applications are groups of independent services coupled together, using the same operating model in any IT environment, we can achieve a level of application universality over the cloud environments that support their execution.
This new paradigm's vision is that the place where applications and data exist is not relevant from a technical perspective. Both must be able to move to the most beneficial location in the business perspective without any technical barriers.
Why Kubernetes?
Kubernetes is an open-source container orchestration platform that automates the necessary operations to be conducted in these containers, thus reducing manual processes for the deployment and scaling of cloud-native infrastructure, whether in a private or public cloud. Automation in Kubernetes helps achieve operational simplicity: application environment's expansion both in scale-up and in scale-out needs when adopting private, public, and/or hybrid cloud environments.
How to start your journey to the Cloud?
At Ritain.io we are ready to support your business journey to the Cloud every step of the way. From the migration of workflows, to the modernization of applications and the management and security of resources in the Cloud. Our highly specialized and certified team on multi-cloud technology (AWS, Azure and GCP) will support your business and help you to take full advantage of the Cloud. 
SUBSCRIBE TO OUR
NEWSLETTER
Sing up to receive our most recent use cases, blogs and insights.
Check our
Blogs and News
Find out more about our experience and how we deliver value to different industries through our automated solutions and cutting-edge technologies.
BLOGS AND INSIGHTS:DEMYSTIFYING TEST AUTOMATION: 5 REASONS WHY YOU COMPANY NEEDS ITThe importance of ensuring the quality and dependability of your applications cannot be overestimated in the fast-paced world of software development. Testing automation, a concept that...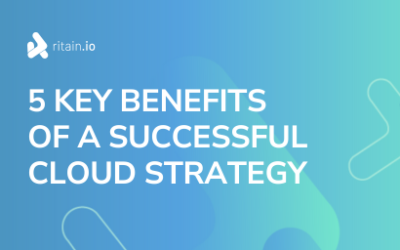 BLOGS AND INSIGHTS:5 KEY BENEFITS OF A SUCCESSFUL CLOUD STRATEGYAs a result of the worldwide pandemic, more organizations are implementing a cloud strategy, redefining their offerings and becoming more cost-effective, nimble, and imaginative in their operations....
Contact us for
More Information